Johan Muhamad (Nagoya University)
Huge energy release from a solar flare can disturb the operation of satellites and space-based technologies on Earth. In order to anticipate severe impacts that may come from a solar flare, it is important to understand the characteristics of an active region (AR) that will potentially produce a large flare. Unfortunately, this special characteristic of magnetic field in a flaring AR is still not clear. Therefore, in order to reveal the signature of magnetic field that can determine the onset of a solar flare, studying the magnetic field of a flaring AR is very crucial.
Since magnetic structure on the Sun may form a double-arc loop system before a flare due to reconnections between sheared field lines, analyzing the stability of this kind of structure is very important. Based on the theoretical and numerical analysis work by Ishiguro & Kusano (2017), a double-arc current system has a critical instability threshold, so called the double-arc instability (DAI), which is different from the torus instability threshold that has been widely studied before. They defined a parameter κ, which can be useful to indicate the onset of a solar flare.
We investigated time series data of magnetic field of flaring AR NOAA 11158 during its three days flaring period in 2011. We used the SHARP vector magnetogram data obtained by HMI instrument onboard the Solar Dynamics Observatory (SDO) satellite to reconstruct the coronal magnetic field of the AR (Figure 1 left) by using nonlinear force-free field (NLFFF) extrapolation method. By implementing the DAI analysis on the NLFFF models of the AR 11158, we try to explore the possibility of finding a signature of large flare before it really happen.
We proposed a proxy parameter of κ, so called κ* that is derived from the surface integration of twist flux density in a core AR (seen in Figure 1 right) divided by the total flux. We found that during three days flaring period of AR 11158, κ* increased significantly before the M6.6 and X2.2 flares and then abruptly decreased after the flares in the critical value, as shown in Figure 2. This is consistent with the theory of the DAI, and it infers that the DAI analysis is useful to study the possibility of a flare occurrence in a real AR. This also shows that κ* may serve as an indicator of the necessary condition of a solar flare to happen in the AR. We also found that although κ* can provide a useful information of the necessary condition for a solar flare, trigger structure may play important role to determine the onset of a solar flare.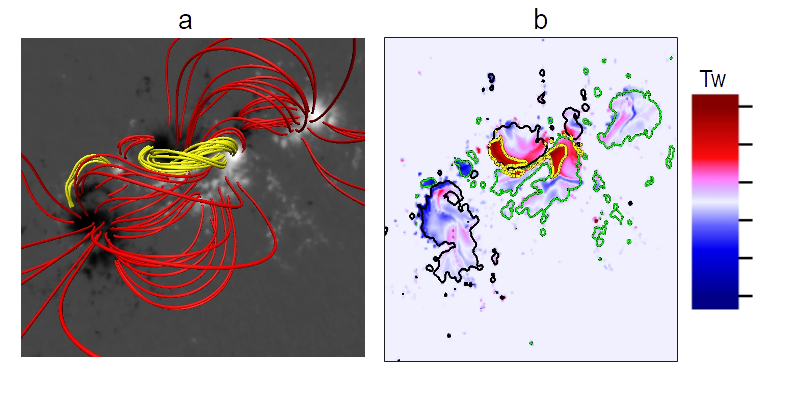 Figure 1. NLFFF model of the coronal AR 11158 at 2011-02-15 01:00 UT (a) and the corresponding magnetic twist (Tw) map (b).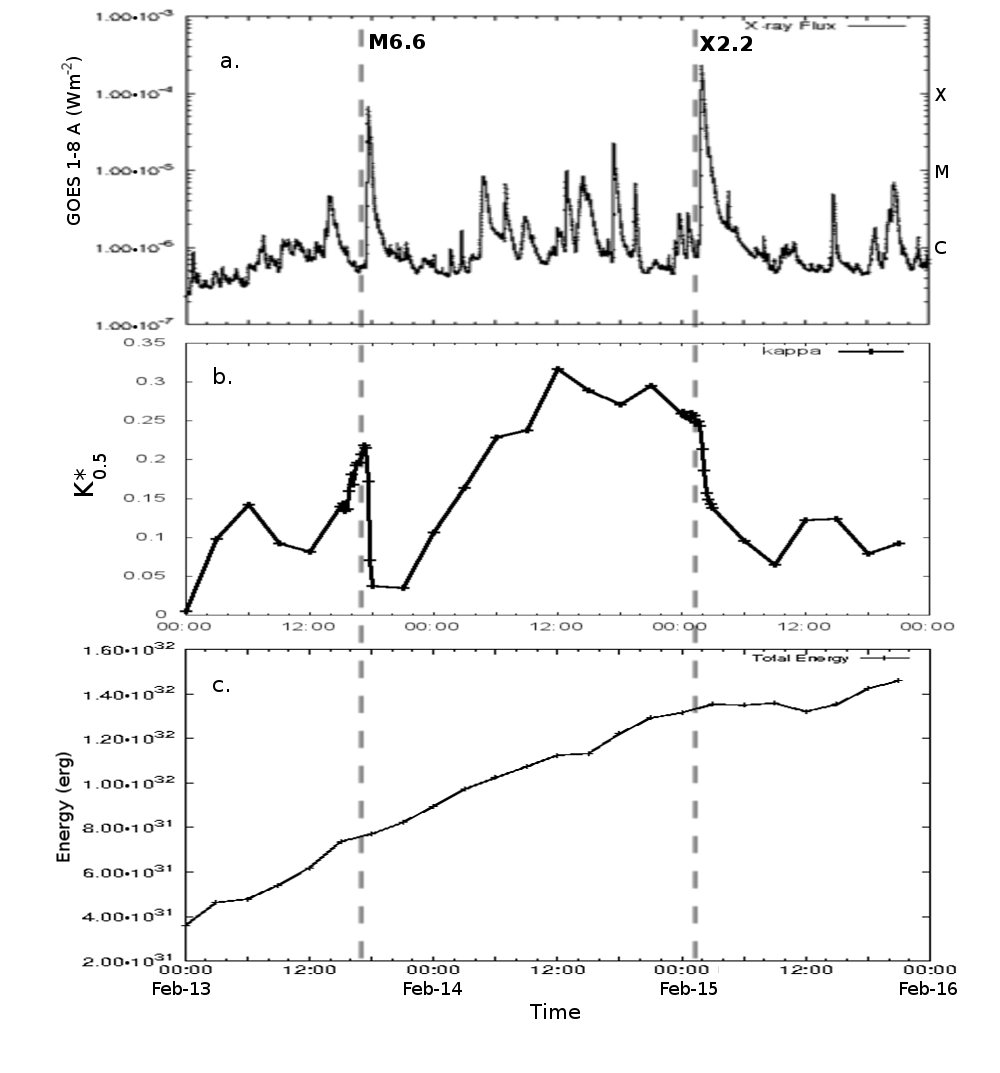 Figure 2. Time evolution of GOES X-ray flux (a), K* (b) and magnetic energy derived from NLFFF during the flaring period of AR 11158 on Feb. 13-16, 2011,
This study is published as the following paper
"A STUDY OF MAGNETIC FIELD CHARACTERISTICS OF FLARING ACTIVE REGION BASED ON NONLINEAR FORCE-FREE FIELD EXTRAPOLATION" by Johan Muhamad, Kanya Kusano, Satoshi Inoue, and Yumi Bamba The Astrophysical Journal (in press)
Reprint availbale on https://arxiv.org/abs/1807.01436
Reference
"Double Arc Instability in the Solar Corona", Ishiguro, N., and Kusano, K. 2017, ApJ, 843, 101, DOI: 10.3847/1538-4357/aa799b